En Route to Canada.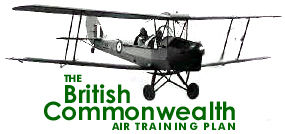 At the start of the Second World War, the British Government looked to the Empire and Dominions for air training help because the United Kingdom did not have the space to accommodate training and operational facilities, and because aerodromes in the United Kingdom were vulnerable to enemy attack. Between 1940 and 1945, some 151 schools had been established across Canada with a ground organization of 104,113 men and women. By the end of the Second World War, the BCATP (Canada) and the EATS (Australia/NZ) had produced 131,553 aircrew, including pilots, wireless operators, air gunners, and navigators for the Air Forces of Great Britain, Australia, New Zealand and Canada. 5296 pilots for the Royal Navy Fleet Air Arm were trained in Canada.

Stage 1: By troopship, in convoy, to Halifax, Nova Scotia.
Stage 2: By Rail (days) to Royal Canadian Air Force Flight Training at Kingston, Ontario.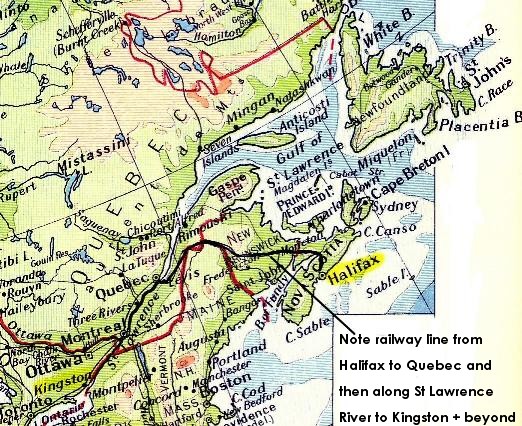 The (Modern) Locality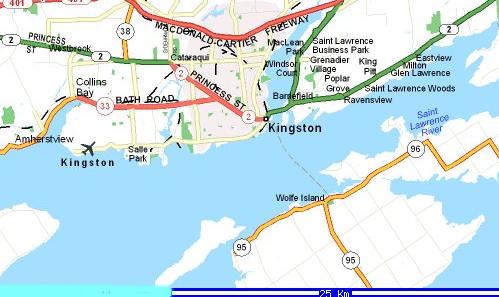 Based at
at Kingston Airport


Secondary Flying Training Course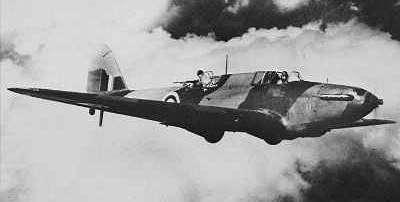 Training in Fairey Battle.
The Battle was a new development when the first prototype flew on 10 March, 1936. It was at the forefront of aircraft development at that time when specified to replace fabric-covered biplanes. It included retractable undercarriages, variable-pitch propellers, cockpit canopies and all-metal, stressed-skin construction. The first production version flew in 1937. However, although it went into RAF service only one was briefly trialled in April 1939 by the Fleet Air Arm and three used as ground instruction.

It was its use in converting aircrews and ground crews to modern equipment that proved most valuable. By the time it saw active service in 1939/1940, the Battle was outmoded by the rapid development of fighter aircraft. Soon obsolete in operational units, the Battle went on to play a large part in the Empire Air Training Scheme which trained many thousands of pilots, navigators and gunners in Canada, Australia and South Africa

First flights were for familiarisation in the "Battle" aircraft.........

.....followed on Feb19th by first solo flight and first progress test on Mar 8th.....

...end of month summary and first night flight.....

......final flights in Canada including a triangular cross-country course

.......and link trainer...

,,,,,and final assessment....

Full Log Book details in Canada can be found at:
Aerobatics in Yale Aircraft: not recorded in log book.

Yale aircraft were originally ordered from Canada in quantity by the French, but 119 were diverted to the Royal Canadian Air Force after the fall of France. Yale Aircraft instruments were annotated in French and calibrated in the metric system so all were placarded with conversion tables. Other faults found in this design included engine and propeller controls which worked in opposite directions to standard practice, electric starters were not included so the engines had to be hand cranked, and the Aircraft were chronically underpowered. Aircrew often noted--with tongue held firmly in cheek--that at least the fixed landing gear meant they would never suffer the embarrassment of a gear-up landing.

Besides Kingston, Gananoque and Picton airfields were used.

During the second world war, Gananoque (pronounced "gan-an-AH-kway") was a relief landing field for the British Commonwealth Air Training Plan (BCATP) No. 31 school in nearby Kingston. It has had little modification since, and still maintains the classic BCATP triangular shape (with three runways so that taildraggers could always land into the wind) and some of the original World War II structures.

During the second world war, Picton airport in Prince Edward County Ontario hosted the #31 Bombing & Gunnery School for the BCATP operating Avro Anson, Fairey Battle, Bristol Bolingbroke and Westlan Lysander aircraft.

Location of Kingston, Gananoque and Picton airfields at edge of St Lawrence River & Lake Ontario

Aunt Grace & husband came to Canada on holiday and visited GMA.

(Original photographs out of focus)
On several occasions GMA missed the bus into Kingston and had to walk (sizeable distance) and on one occasion had frost-bite in on one ear lobe! This was noticeable to other people (dead white ear). There were numerous recipes for cures (no doubt many unrepeatable) but the best cure was to leave it alone and allow to warm gradually!
GMA was able to buy skates from the store at the base and go skating on Lake Ontario (after removing the surface snow!)
The "touristy" things were not neglected with GMA and group hiring a car and visiting Niagara Falls etc.